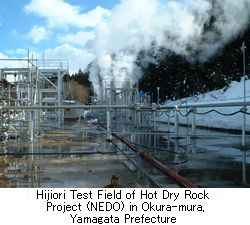 Geothermal Energy Research & Development Co., Ltd. was established in November 1975 under the auspices of the former Ministry of International Trade and Industry (MITI). It began as a joint venture launched by geothermal development-related private enterprises in Japan with the aim of in order to promoting the research and development of geothermal energy as part of in the Sunshine Program that MITI initiated began in 1974.

We have participated in the research and development of geothermal technologies conducted through the Sunshine Program, and have strived to introduce foreign cutting-edge geothermal technologies and to offer consulting services and information. At the present time, we have nearly reached the point where are also actively approaching application of the our geothermal technologies we have developed can be applied so far to other fields. Examples of them include oil, gas, methane hydrate, metallic deposits, civil engineering, groundwater, protection against earthquakes, under-sea crustal structure study, the geological sequestration of carbon dioxide, and the underground disposal of a high level of nuclear wastes.

With the recent trend in increasing human economic and social activityies, global-warning and other environmental problems have become apparent. Regarded as environment-friendly, clean, and renewable, the geothermal energy is expected to develop still further. Therefore, we will make our utmost efforts not only to contribute to the progress of the geothermal development but also to expand our new consulting business. We thank you very much for your support and assistance.


Geothermal Energy Research and Development Co., Ltd.


Corporate Name
Geothermal Energy Research & Development Co., Ltd.
President
Haruya Nakata
Established
November 13, 1975
Capital
114 million yen (Authorized: 150 million yen)
Registration
Construction Consultant in Geology Section (Registration No.: Const. 30-2700)
Surveyor (Registration No.: (6) 23778)
Banks
Mizuho Bank, Ltd. (Kabuto-cho Branch)
Resona Bank, Ltd. (Nihonbashi Branch)
Kiraboshi Bank, Ltd. (Kayaba-cho Branch)
Shareholders
31

IHI Corporation
Idemitsu Oita Geothermal Co., Ltd.
INPEX GEOTHERMAL, LTD.
WELMA Co., Ltd.
Osaka Gas Co., Ltd.
Kawasaki Heavy Industries, Ltd.
Kansai Electric Power Co., Inc.
Kyushu Electric Power Co., Ltd.
JX Nippon Mining & Metals Corporation
JFE Engineering Corporation
Sumitomo Metal Mining Co., Ltd.
Japan Petroleum Exploration Co., Ltd.
Taiheiyo Cement Corporation
Chuo Kaihatsu Corporation
TIX Holdings Co., Ltd.
Toshiba Energy Systems & Solutions Corporation
Toho Zinc Co., Ltd.
Tohoku Electric Power Co., Ltd.
Nittetsu Mining Co., Ltd.
Nittetsu Mining Consultants Co., Ltd.
NEC Corporation
Japan Metals & Chemicals Co., Ltd.
Fuji Electric Co., Ltd.
Furukawa Co., Ltd.
Hokuriku Electric Power Company
Mantomi Co., Ltd.
Mizuho Bank, Ltd.
Mitsui Mining & Smelting Co., Ltd.
Mitsubishi Gas Chemical Company, Inc.
Mitsubishi Heavy Industries, Ltd.
Mitsubishi Materials Corporation

Main Qualified Employees
Doctor: 4
Registered Consulting Engineer: 6
Address
Shinkawa Nittei Annex Bldg., 22-4, Shinkawa 1-Chome,
Chuo-ku, Tokyo 104-0033, Japan