We conduct R&D projects commissioned by New Energy and Industrial Technology Development Organization (NEDO).


| | |
| --- | --- |
| | R&D projects |

Developing a hot dry rock system




The hot dry rock system is the next-generation of geothermal power plants by forming an artificial geothermal reservoir in the rocks to circulate water in the reservoir via two wells or more and extracting heat to generate electric power.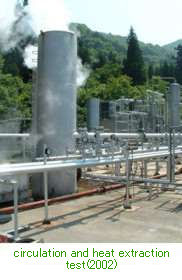 Since we started the fundamental study as part of the MITI's Sunshine Program in 1974, we have worked on the research and development continuously. In 1995 and 1996, we succeeded a one-month circulation and heat extraction test at the Hijiori site located in Okura-mura, Yamagata Prefecture.

And now, The long-term circulation and heat extraction test that began from December 2000 and is scheduled to the end in of August 2002 is now in its closing stages.



| | |
| --- | --- |
| | Technologies already available and nearing practical applicationuse |
Technologies already available and nearing practical applicationuse
High-precision MT equipment
PTS memory logging equipment for detecting lost circulation
Drilling database for lost circulation
PT memory logging equipment for high temperature (400°C)
Downhole sampler for high temperature (300°C)
Well path calculation and borehole temperature analysis programs
MT 2D/3D analysis program
Electromagnetic borehole survey technology
commission by NEDO
Electromagnetic tomography equipment and CSEM 2.5D analysis program
commission by Metal Mining Agency of Japan
| | |
| --- | --- |
| | Our own technologies |

G*BASE (visualized underground information database)


GFLOW (borehole fluid simulator)


GeoCAD (pre-processor for TOUGH2)